王民会长在2019第二届世界中小企业大会新闻发布会上的致辞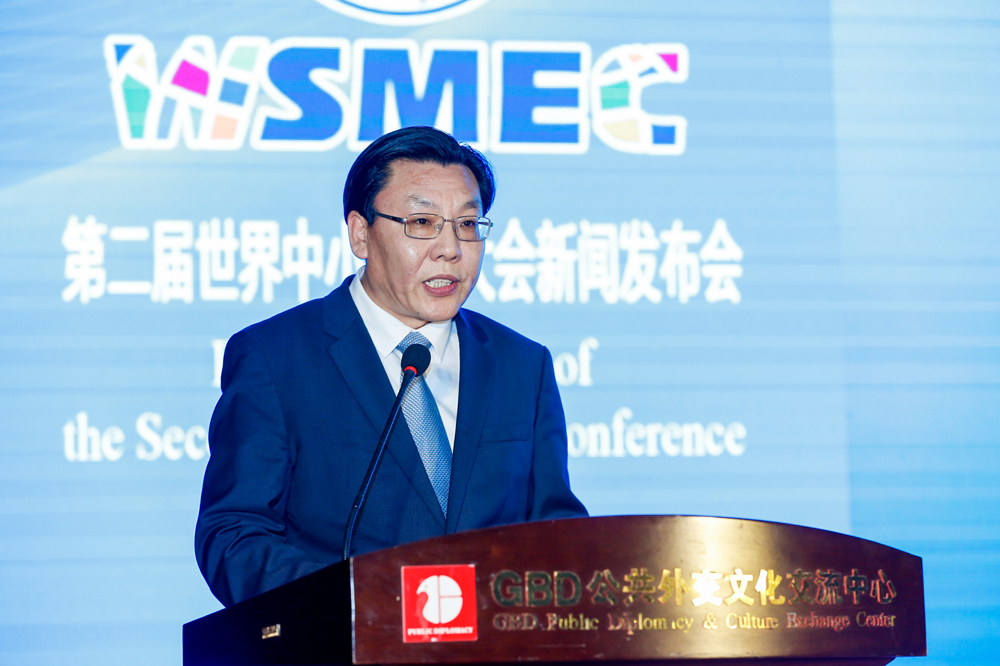 马振轩会长,各位大使阁下,各位嘉宾、新闻媒体的朋友们:
Distinguished President Ma Zhenxuan, Your Excellencies Ambassadors, and Dear Guests and Friends,
大家下午好!五月的北京花团锦秀,欣欣向荣。在这美好的季节里,今天我们有幸在这里举行2019第二届世界中小企业大会新闻发布会,首先我代表中国中小商业企业协会及大会组委会,向各位领导、嘉宾和朋友们百忙中出席会议表示热情的欢迎和诚挚的感谢!
Good afternoon! Beijing becomes more beautiful and is full of energy in May. In this lovely season, we are very honored to have the 2nd World SME Conference 2019 held in this city. First of all, I, on behalf of the China Association for Small & Medium Commercial Enterprises as well as the Organizing Committee, would like to extend my heartfelt gratitude and warm welcome to our distinguished leaders, guests and friends for your presence at the conference.
构建人类命运共同体,凝聚每个人的力量,凝聚着每个企业的希望。中小企业是世界各国经济发展的支柱,也是最具发展活力和创造力的企业群体。2017年4月6日,联合国全体会议决定,将每年的6月27日设为"中小微企业日",以充分认识中小微企业在实现可持续发展目标,特别是在促进创新、创造力和人人享有体面工作方面的重要作用,这进一步体现出国际社会的普遍共识。
Building a community with shared future consolidates everyone's strength and pools every enterprise's hope. SMEs are the pillar of economic development in the world, and also the most dynamic and creative enterprise group. The plenary session of the United Nations decided on April 6, 2017 to designate June 27 as the "Small and Medium Enterprises Day", which fully recognizes the important role of SMEs in achieving sustainable development goals, especially in promoting innovation, creativity and decent work for all. This further demonstrates the general consensus of the international community.
为积极响应联合国的决议,中国中小商业企业协会发起创办了"世界中小企业大会"这一重要平台;大会创办以来,得到了社会各界的大力支持,取得不断的发展。去年的大会开得很成功,有鲜明的主题,丰富的内容,参会者踊跃,为多个国家和地区海内外上千家企业搭建起了互学、互鉴,交流合作、深度对话的平台,有效发挥了协会桥梁和纽带作用。会议也得到了有关领导的重视。十二届中国全国政协副主席马培华、王钦敏、意大利前总理达来玛、联合国工业发展组织总干事李勇特别代表包瑞理等出席去年大会的开幕式并做重要讲话,有关国家部委部门负责人及俄罗斯、美国、德国、日本、韩国、西班牙、意大利、泰国等国中小企业机构代表团光临会议、发表演讲和参与相关的活动。经过三年多的努力,大会知名度在不断提高,影响力在不断扩大,品牌效应在不断凸显。
In response to resolutions of the United Nations, the China Association for Small & Medium Commercial Enterprises initiated this World SME Conference that has been steadily growing with strong support of various sectors since its inception. The first World SME Conference achieved a complete success thanks to the distinct themes, rich contents and active part of participants. The conference has been an important platform for learning from each other, exchange, cooperation, and in-depth dialogue among thousands of enterprises in many countries, regions and at home and abroad, and effectively played the role as the bridge among them, with great concern and support of related leaders. Ma Peihua and Wang Qinmin, Vice-Chairmen of the 12th CPPCC National Committee, H. E. Massimo D'Alema, former Prime Minister of Italy, and Li Yong, Director-General of United Nations Industrial Development Organization and Special Delegate Bao Ruili attended and addressed the opening ceremony of last year's conference. The leaders of national ministries and commissions, as well as the SME delegations of Russia, the United States, Germany, Japan, South Korea, Spain, Italy and Thailand attended the conference, made speeches and took part in related activities. After more than three years of hard work, the conference is having its popularity, influence and brand effect increased.
今天的发布会很重要,也很必要,大家集思广益,互商共议就是为把第二届世界中小企业大会举办得更好。我们深深地感到要想把这个平台越办越好,很关键很重要的因素就是离不开各界的关心和支持,离不开参会、参展方的积极投入,离不开媒体朋友们的鼎力相助,也正是大家齐心协力、携手同行,才呈现了世界中小企业大会的好局面、好势头。
This Press Conference is very significant and necessary to brainstorm for better hosting the 2nd World SME Conference. As we know, the concern and support of various sectors, the active part of participants and exhibitors, as well as the wide media coverage about the conference are the guarantee to success of this platform. As a result, our concerted efforts and joint work bring about a great start and a sound momentum to the conference.
第二届世界中小企业大会定于2019年6月21日-23日在北京雁栖湖国际会展中心举行。本次大会得到了中国人民对外友好协会等机构支持,由中国中小商业企业协会、公共外交文化交流中心、北京外国语大学国际商学院等机构共同举办,江苏省邳州市,天津市河东区将作为国内联合协办城市参与;世界知识产权组织、欧盟中小企业中心、印度中小企业商会、瑞士中小企业联合会等多个组织及中小企业NGO机构作为支持单位参与。
The 2nd World SME Conference will kick off at Beijing Yanqi Lake International Convention & Exhibition Center of China on June 21-23, 2019. With support from agencies like the Chinese People's Association for Friendship with Foreign Countries, the conference is co-sponsored by China Association for Small & Medium Commercial Enterprises, the Public Diplomacy & Culture Exchange Center and Beijing Foreign Studies University, with Pizhou, Jiangsu and Hedong District, Tianjin as its co-host cities at home, and Toyama. It is also supported by a number of organizations, SMEs and NGOs, such as World Intellectual Property Organization, EU SME Centre, Chamber of India and Swiss Federation of Small and Medium Enterprises.
下面,我就第二届大会的特点做个介绍。
Next, I'll unveil the features of the 2nd World SME Conference.
第一,这次会议更加突出"一带一路"建设。大家知道,今年4月,中国在北京成功举办第二届"一带一路"国际合作高峰论坛,习近平主席提出坚持开放、绿色、廉洁理念,得到与会各国首脑的高度赞同,成效特别显著,硕果丰实丰盈。第二届世界中小企业大会基于这样的大背景,将举办第三届"一带一路"沿线国家中小企业合作论坛和"一带一路"绿色发展国际合作峰会,就是要共商合作愿景,共建合作平台,共享合作红利,为中国中小企业走出去拓宽合作渠道。
Firstly, the building of the Belt and Road is highlighted at the conference. As we all know, the Second Belt and Road Forum for International Cooperation was successfully held in last month. At the Forum, President Xi Jinping stressed that we need to pursue open, green and clean cooperation. That was highly applauded by heads of state and government, demonstrating remarkable and fruitful results from the forum. In this context, the Third SME Cooperation Forum for countries along the Belt and Road and the International Cooperation Summit for the 'Belt and Road' Green Development will be held during the Second World SME Conference, aiming to shape the vision of cooperation, build a platform for cooperation, share the benefits of cooperation, and expand the channels of cooperation for Chinese enterprises going global.
第二,这次会议更加突出中小企业国际合作。上一届大会,我们举办了系列对接性会议、主题论坛和洽谈,得到与会者广泛认同,取得良好预期。今年将继续办好、办出成效,进一步深化产能政策解读,进一步细化项目对接,进一步强化投资风险防范。作为面向全球、覆盖国内各省区市、覆盖中小企业相关领域的特色专题会议,本次大会更加聚焦经济形态分析与研判。一是特邀国家部委领导介绍最新政策设计、企业投资合作指向;二是诚邀国内外著名学者、专家、企业家代表,加大对实体经济和产业的解析度;三是广邀"一带一路"沿线国家、地区机构和企业对话洽谈,项目展示,着力推动深度交流和合作。
Secondly, the international cooperation between SMEs is much more focused on at the conference. At the last conference, we held a series of matchmaking meetings, thematic forums and negotiations, which were widely recognized by the participants and achieved expected results. We will continue our efforts to hold the conference and make satisfactory results again this year, further clarifying capacity policies, refining project matchmaking, and strengthening investment risk prevention. As a specialized conference targeting at the SMEs in various district, cities and provinces in China, and even in the world, it will pay much more attention to the analysis and study on economic formation. First, some senior government officials and ministry leaders will introduce the latest policy design and the orientation of enterprise investment cooperation. Second, famous scholars, experts and entrepreneurs at home and abroad will analyze the real economy and industry. Third, a wide range of institutions and enterprises in various countries and regions along the Belt and Road will participate in dialogues and exhibition, vigorously promoting in-depth exchange and cooperation.
第三,这次会议更加突出实效成果。本次大会,议题将更加新活多样,内容更加紧凑简约,形式更加注重实效,着力促成更多签约及投资合作意向。为了方便与会者交流、沟通和洽谈,会议将参考"1+1+N"的组织模式,举办一场开幕式、一场主论坛、N场平行分论坛,开展多层面交流互鉴,广泛凝聚合作共识。开设国别投资推介平台,设立国际、国内展示区和一对一洽谈区;聚力办好投资"一带一路"沿线国家、中韩、中日等区域投资合作论坛,新零售、区块链、人工智能、科技金融等多行业的分论坛,全方位宣介参会国和区域投资环境、合作政策。举办"未来创业者—模拟企业家国际圆桌论坛",邀请海内外的青年学生参与,让更多的学生了解到商业在未来世界的重要性,激发同学们用商业模式表达自己的想法;我们将竭诚为参会者铺路搭桥,开辟发展新机遇,谋求发展新动能,提供优质的会务保障和服务,努力实现各项洽谈洽商活动无缝对接,携手构筑开放包容、合作共赢的经济发展共同体。
Thirdly, practical results are stressed at the conference. At this conference, the theme will be more energetic and diverse, and the contents will be more compact and concise with focus on practical results. This helps to bring about more agreements and intentions for investment cooperation. In order to facilitate the exchange, communication and negotiation between participants, we will hold an opening ceremony, a main forum and numerous sub-forums, referring to the mode of "1+1+N", to promote multi-level exchanges and mutual learning, and to pool broad consensus on cooperation. A national investment promotion platform is provided. International and domestic exhibition areas, as well as one-to-one negotiation areas are established. Great efforts are made to hold the regional investment cooperation forums among countries along the Belt and Road, between China and South Korea, and between China and Japan, and to organize sub-forums in new retail, block chain, artificial intelligence, science, technology and finance. All that will publicize the investment environment and cooperation policy of participating countries and enterprises in an all-round way. Furthermore, students at home and abroad will attend the "Entrepreneurs of Future - Simulating International Entrepreneurs' Round-Table Forum". They will learn about the significance of business in the future world and be motivated to express their ideas in a business way. We will work for connecting and bridging all participants, opening up new opportunity, fostering new growth drivers, and providing premium exhibition-related support and service. In addition, we will make efforts to launch various matchmaking events, and to build an open, inclusive and win-win community for economic development.
各位来宾!
Dear guests!
世界中小企业大会已成为助力中国企业"走出去",促进中小企业国际交流合作的重要平台,它的成长成功是大家共同扶持的结果,今后的发展和进步,依然期盼各方的百般呵护和支持。中国中小商业企业协会,愿同大家一道把这个平台办得越来越好,也热切地期望媒体朋友们多宣传、多报道,为更多的境内外机构和企业了解大会、参与大会、用好大会,襄助中国企业更好地"走出去",造福于世界各国人民。
The World SME Conference serves as a major platform supporting Chinese enterprises "going global" and promoting international exchange and cooperation between SMEs. The conference grows and succeeds with your support, and we expect your continuous support for its further development. The China Association for Small & Medium Commercial Enterprises is committed to working with you for better of the platform, and we are eagerly anticipant of wide media coverage about the conference. That would attract more institutions and enterprises of China, and even of the world to know it, attend it and use it, and help Chinese enterprises to go global for benefiting the people of the whole world.
最后我诚邀在座各位,并通过你们邀请更多的朋友届时莅临本届大会,预祝第二届大会结出更多更丰硕的成果。让我们6月22日相约北京,相约美丽的雁栖湖!
At last, I would like to invite all of you and more friends from all over the world to attend the conference, and I wish the conference more fruitful results. I'm looking forward to seeing you at Beijing Yanqi Lake on June 22!
谢谢大家!
Thank You!

更多猛料!欢迎扫描下方二维码关注中国中小商业企业协会官方微信( zxsxorg )